ECTA Board Vacancies
Posted on Thursday December 07, 2017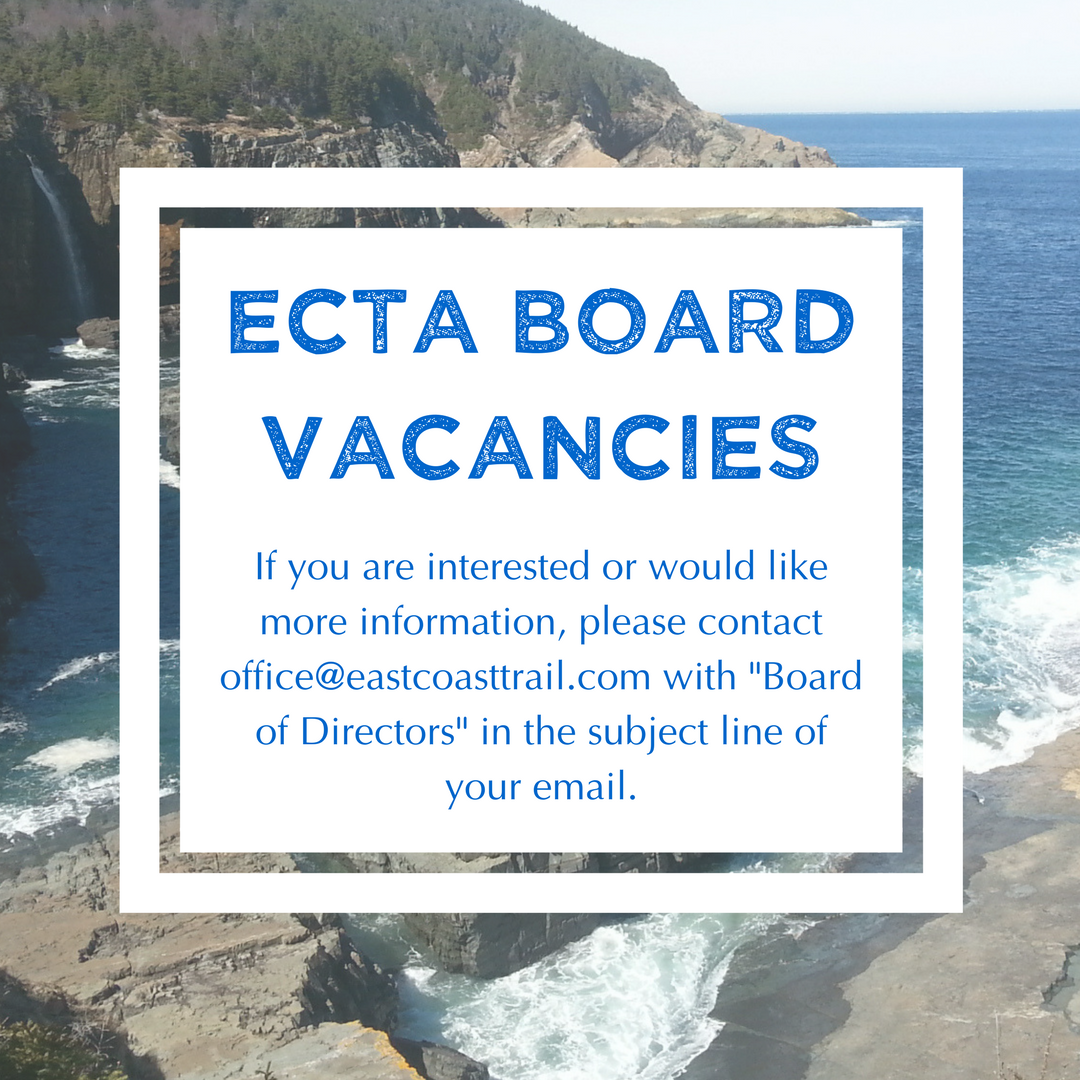 ECTA Board Vacancies: Summary Roles & Responsibilities:
The Nominations Committee is currently seeking candidates to fill the following Board positions:
Vice-president, Volunteers & Membership:
The vice-president is responsible for the mandate of the Volunteer & Membership
committee, reports into the President and serves on the Board of Directors. Major duties
include: volunteer management, membership management, the awards & recognition
program, and the guided hiking program.
Vice-president, Land & Legal:
The VP L&L is responsible to secure and maintain the rights-of-way and trail corridor required to protect and preserve the Trail, as well as, to manage all legal and insurance matters required to protect the interests of the Association. The VP L&L reports into and is accountable to the President and is a member of the Executive Committee and serves on the Board of Directors. The VP L&L is responsible for the planning, prioritization, resourcing, funding and execution of all matters regarding the mandate of the Land & Legal Committee. Major duties include: land investigation & analysis, town plans & business, community outreach & communication, research & legislation, negotiating access & rights-of-way, the management & control of all land based agreements, litigation and the Insurance program.
New Governance (Oversight) Committee:
We are recruiting to acquire the volunteer services of qualified candidates to serve on the Board of Directors as members of the Governance Committee. The mandate of the Governance Committee is to assist the Board of Directors in fulfilling its oversight responsibilities by reviewing all aspects of the Board's governance framework to ensure the Board functions in an effective and efficient manner to support the operations of the East Coast Trail Association. We are looking for directors to help us define, implement and execute this very strategic mandate, they are:
Corporate Secretary, Committee Chair
Director focused on Finance & Accounting
If you are interested or would like more information, please contact office@eastcoasttrail.com with "Board of Directors" in the subject line of your email.