The East Coast Trail links through more than 30 historic coastal settlements and communities. Trail segments between each community are known as paths. Paths begin and end at trailheads, typically found at the north and south end of a community. Paths within the same community are linked using roadways.
When choosing a hike, consider the length, the average time to complete and the difficulty rating. East Coast Trail paths do not loop – stated path distances are one way.
Paths generally 2-7km, elevation changes or no more than 25m. Hikers will experience good trail conditions. Path include bridges, stepping stones, boardwalks, steps and retaining walls.

Paths range from 4 to 11km, elevation changes up to 75m may occur. Paths include bridges, stepping stones, or boardwalks. Boardwalks may not cover all wet areas.

Paths are 9-17km, elevation changes up to 150m may occur. Hikers may experience more rugged wilderness trail conditions. Structures like bridges or stepping stones may be present over large streams, wet areas, etc.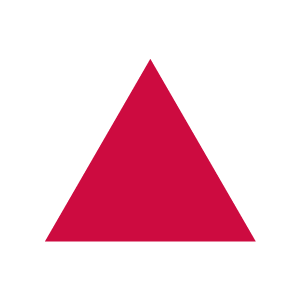 Long paths with major elevation changes over 150m. Expect rugged wilderness trail conditions as these paths have minimal trail structures.
Each path is unique and trail conditions may vary. Review individual path information as you plan your hike. Use of East Coast Trail maps is recommended. Look for signs at designated parking areas, trailheads and on paths to help you navigate.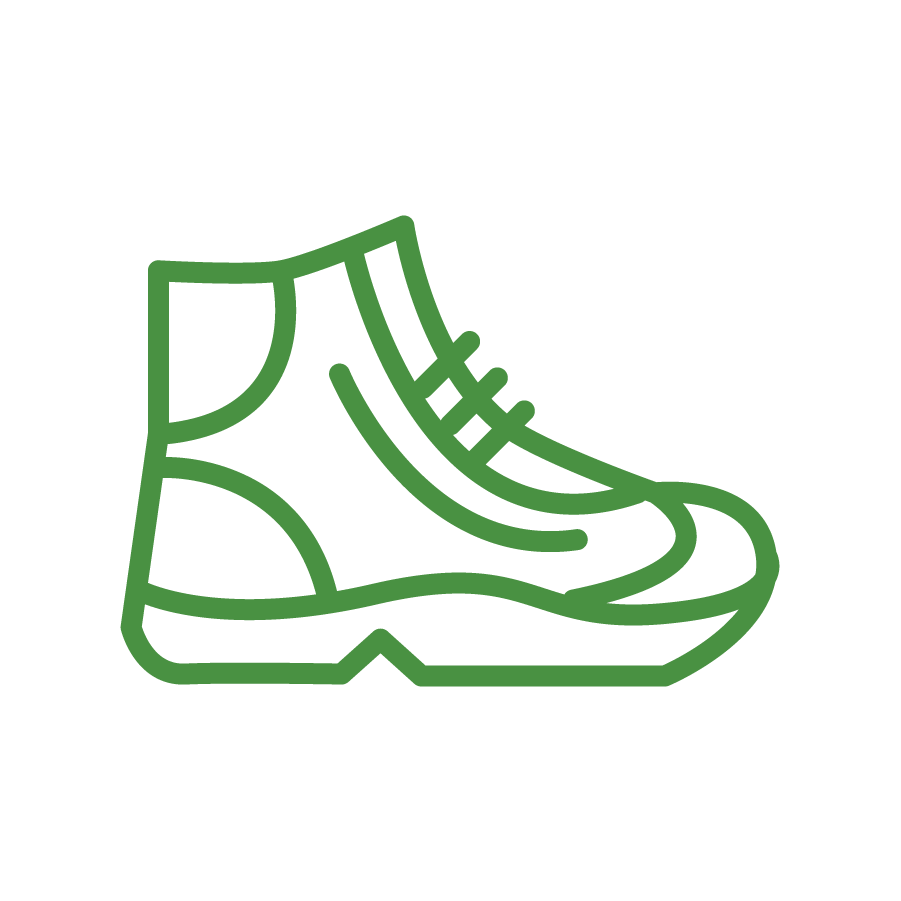 Footwear
Trail-rated hiking boots or shoes are a must on the rugged East Coast Trail. Sneakers, running shoes, sandals or flip-flops are not adequate protection for your ankles and soles of your feet.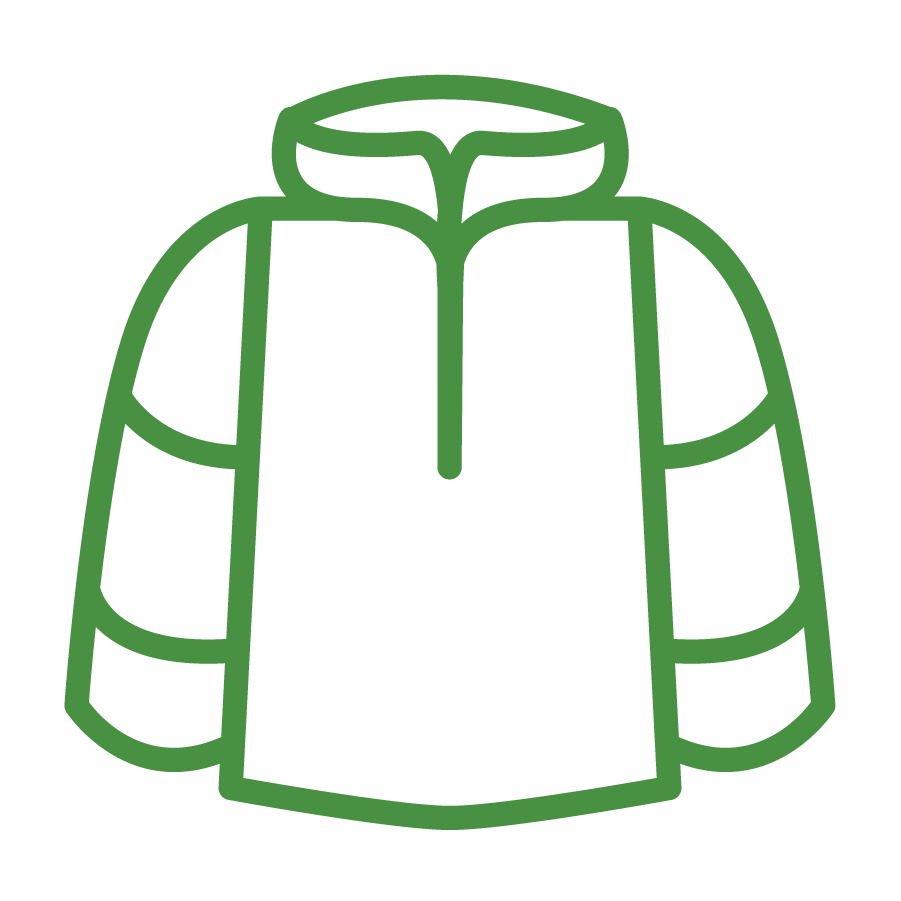 Clothing
Layer brightly colored, lightweight, quick-drying clothing for changing Newfoundland weather conditions. Carry a wind/water proof jacket and/or pants, and a hat for sun protection. For a long day hike, consider bringing a change of socks. When weather has been wet recently, leg gaiters can offer additional protection.
Backpack suited to the length and duration of your hike
Cell phone (expect intermittent coverage)
Emergency contacts (including 911, local police detachments)
Other navigation such as a compass or GPS may help on difficult-strenuous paths
Trekking poles or a walking staff can help with balance and reduce risk of falls and sprains.
Adequate water, fruit juice or other fluids (plan for 300ml per hour per person).
Adequate food or snacks
Insect repellent (in summer months)
First Aid Kit
Flashlight, extra batteries
Whistle
Pocket knife
Lightweight and trail-suitable camping gear if thru-hiking
A camping stove for cooking or heating (no open flame), extra fuel
When to Hike the Trail
The best time to hike the East Coast Trail is from spring to fall (April to November), when the trail is most likely free of snow and ice and daylight hours are longest. Plan to start your hike early enough to finish in daylight. Trail conditions updates, public guided hikes, volunteer maintenance outings, and trail crew maintenance take place from spring to fall.
Weather
The weather is warmest between June and early September. The East Coast Trail runs along the Avalon Peninsula between the warm Gulf Stream and the cold Labrador current. The Trail is susceptible to weather changes that often do not match forecasts. Fog can roll in and cover areas without notice. Prepare for varying weather by packing rain gear, hiking poles and layers that you can add or remove as needed. Always hike with care and remember: safety first. 
However, Newfoundland's temperate, coastal climate makes it one of the best hiking locations, especially from April to November. More on weather and climate
Average Monthly Temperatures from April to November
| | | |
| --- | --- | --- |
| Month | Average High Temperature (Celsius)  | Average Low Temperature (Celsius) |
| April | 9.0 | -1.0 |
| May | 13.0 | 3.2 |
| June | 17.4 | 7.4 |
| July | 21.2 | 11.8 |
| August | 21.6 | 13.2 |
| September | 17.9 | 9.5 |
| October | 10.6 | 4.3 |
| November | 6.5 | 1.1 |
No Winter Trail Maintenance
No trail clearing, trail maintenance or trail conditions updates take place in winter months (December to March).
Storms Happen
The Avalon Peninsula coastline can experience severe storms with high winds and significant rain or snowfall. When a severe storm makes landfall, conditions are surveyed and assessed. From time to time we receive reports of paths which are partially blocked following a storm. Most blockages and resulting damage are from blow-downs, trees that have fallen on or near the trail. Blow-downs can block the trail by falling on it or across it, and can also cause serious damage to the trail bed when a tree's root system tears through the trail bed. Leaners – trees that have been damaged but have not fallen – may also partly block the trail. After a storm, areas and structures may have eroded or come loose. Always use caution, especially in low areas where there is potential for high waves and ocean surges. Hike in pairs, bring a cell phone and be prepared.
Use Caution
We recognize that hikers will continue to use the trail in a wide variety of weather conditions. Be aware of current or impending conditions before and while you hike. Plan to take special care and use discretion for the conditions you encounter.
Consider your ability level, the path difficulty rating and path length as you finalize your plan.
If planning a long-distance or thru-hike, allow time to prepare yourself to carry the full weight of your equipment over long distances.
Check local weather conditions before you hike. Have a plan to exit the trail safely in anticipation of storm conditions.
Review a path map or maps before you hike.
Choose a hike you can complete before sundown.
Tell others your plans, where you are going, and when you expect to return.
Follow trail signage. Look for black and white waymarker posts on rocky or barren areas where the trailbed is less visible.
If you become lost, call for help if possible, then remain where you are. Be prepared to spend the night outdoors.
Hike with a companion or group, and stay together.
Consider getting started on an ECTA public guided hike. Hikes take place each weekend from April to November.
Leave no trace of your hike, and respect the rules of the trail.
On paths rated moderate to strenuous, expect cliffs, steep climbs, and uneven trail bed.
Exercise extreme caution in fog, storm and winter conditions. Be prepared for periods of fog cover.
Use caution along beaches or low lying areas in high wind or storm conditions given risk of powerful ocean waves or surges.