ExxonMobil Canada sponsors ECT "Trail Raiser" Annual Fundraising Hike
Posted on Thursday May 09, 2019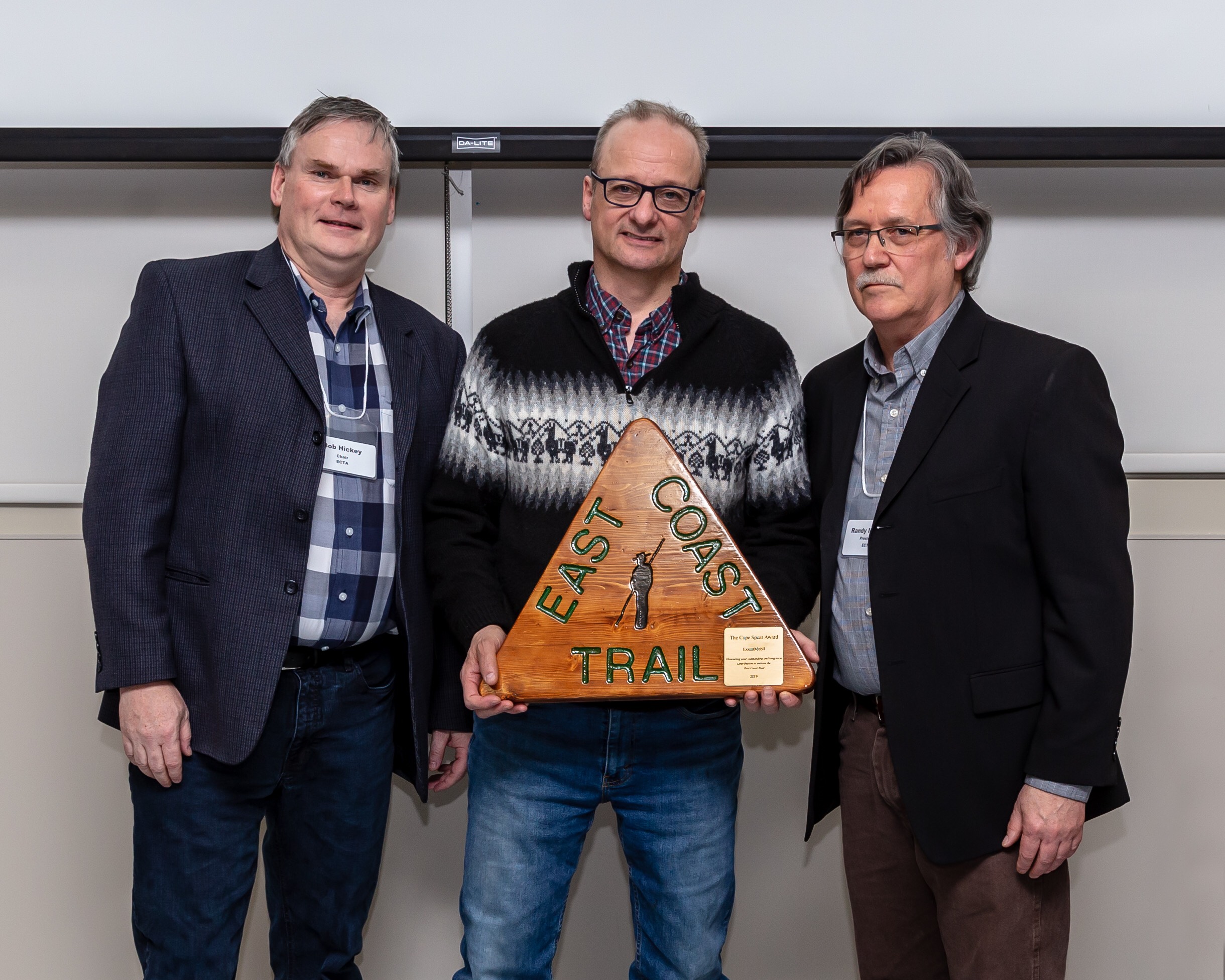 Doug Goodridge, Commercial & Joint Interest Manager, accepted the Cape Spear Award on behalf of ExxonMobil Canada. Bob Hickey, ECT Chair and Randy Murphy, ECT President. Photo by Jason Edwards
The East Coast Trail (ECT) is $15,000 closer to its annual fundraising goal thanks to ExxonMobil Canada who signed on as the Trail Raiser Event Sponsor for 2019. The Trail Raiser is the ECT's annual fundraising hike, raising crucial funds and awareness to support the maintenance and protection of the ECT. This year's event will be held on Saturday, June 8th at Bay Bulls. "We are pleased to recognize and thank ExxonMobil Canada for its commitment to the Trail and its ongoing sustainability of the Association," said Randy Murphy, ECT President.
ExxonMobil Canada has been a committed supporter of the ECT for the past 17 years, contributing to date $280,000 since 2002. This is a major contribution towards the ongoing sustainability of the ECT, supporting the funds required annually, from non-government sources, to qualify for provincial and federal funding programs. In addition, ExxonMobil Canada, through its donations to Nature Conservancy of Canada (Nature Reserve Maddox Cove, Nature Reserve Freshwater Bay), is having a significant positive impact on the preservation and protection of the ECT. On April 25, the ECT presented ExxonMobil Canada with the Cape Spear Award recognizing and honouring its outstanding, long-term contribution to the sustainability of the Trail.
"This partnership is having a positive and lasting impact on the ECT and ExxonMobil Canada is setting the example for the type of longstanding partnerships we are trying to develop with our corporate sponsors to sustain the ECT," says Randy Murphy, ECT President. The ECT "25th Anniversary" fundraising campaign was launched in early April with a fundraising goal of $225,000: Trail Raiser $75,000, Corporate Sponsors $150,000. The campaign is reaching out to the corporate community and the general public to get involved and embrace the Trail. The campaign provides the opportunity to show our appreciation for the "gift of the East Coast Trail" by helping raise the funds needed to maintain and protect this "priceless" nature-based resource.
"The East Coast Trail is an iconic attraction for visitors to eastern Newfoundland and the area's residents," said Peter Larden, President of ExxonMobil Canada. "We commend the Trail association for the incredible job it has done over the last 25 years to develop and maintain this wonderful resource for the province. We encourage people to join us on June 8 for the Trail Raiser."
Let's join with ExxonMobil Canada, working together to make a difference, accepting the challenge to establish an ECT fundraising milestone in 2019.